Hi, I have a table with N number of records with following format: col1 col2 col3 col4 sel count(*) from Table_S1 sel count(*) from Table_T1 x x. Taradata BTEQ, Teradata Transaction Modes- Learn Teradata with simple and easy examples covering basic teradata, teradata architecture, teradata. As part of the Teradata Tools and Utilities (TTU), BTEQ is a Teradata native query tool for DBA and programmers — a real Teradata workhorse, just like SQLPlus.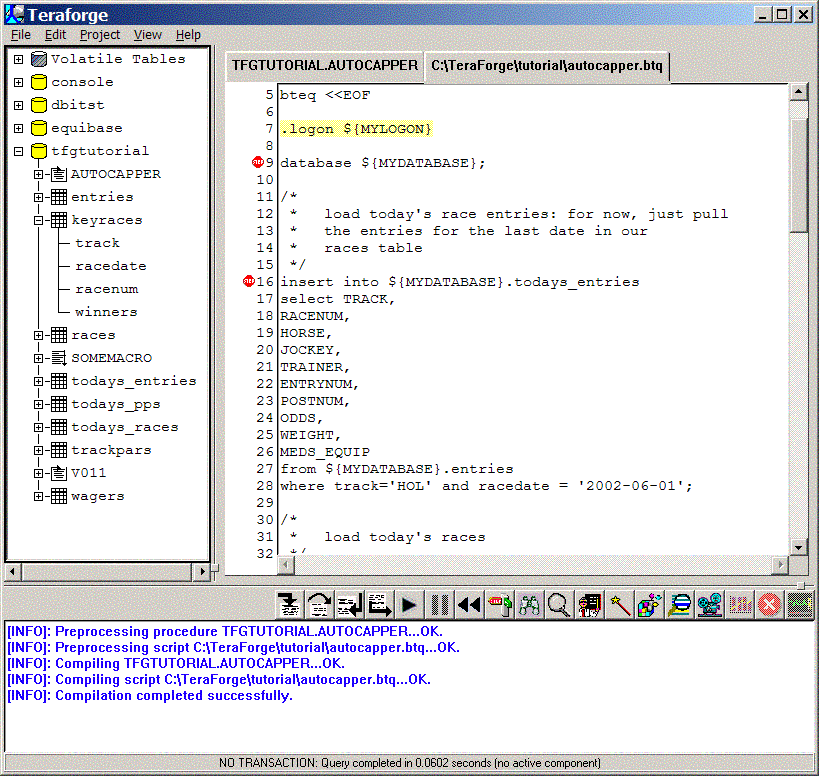 | | |
| --- | --- |
| Author: | Zulumuro Kitaxe |
| Country: | Zambia |
| Language: | English (Spanish) |
| Genre: | Music |
| Published (Last): | 16 January 2016 |
| Pages: | 92 |
| PDF File Size: | 16.34 Mb |
| ePub File Size: | 14.17 Mb |
| ISBN: | 955-6-49480-487-3 |
| Downloads: | 84302 |
| Price: | Free* [*Free Regsitration Required] |
| Uploader: | Faunos |
BTEQ outputs a report format, where Queryman outputs data in a format more like a. BTEQ displays the results in a format that is suitable for performance testing.
Teju Teju 29 November at If i remove the column name manually and run ,then second export stmt is printing as below,need to eliminate the column heading from it. Therefore, in bulk exporting on loading scenarios, Teradata FastExport and MultiLoad are better performers than BTEQ because they btrq optimized to apply multiple rows in block-level operations.
Thank you for sharing valuable information. Repeats the previous Teradata SQL request a specified number of times. Splits fold each line of a report into two or more lines. This section is based on Teradata documentation [1]and for the detailed usage, please refer to Reference 1.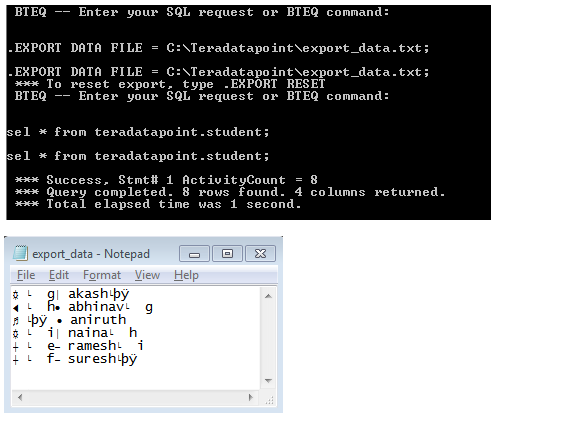 Use Export Reset command to achieve the same in one script. Teradara a batch process from teraxata mainframe and porting it to SPL will not likely yield a substantial improvement in performance. I will read the first row from the table, I need to execute the content in col1 and col2 of row 1 and store it in to another table.
What about executing the table content? Sign up using Email and Password. For the commands not listed below, refer to the tables above. MultiLoad places a lock on on the destination table s to prevent user queries from getting inconsistent results before the data load or update is complete.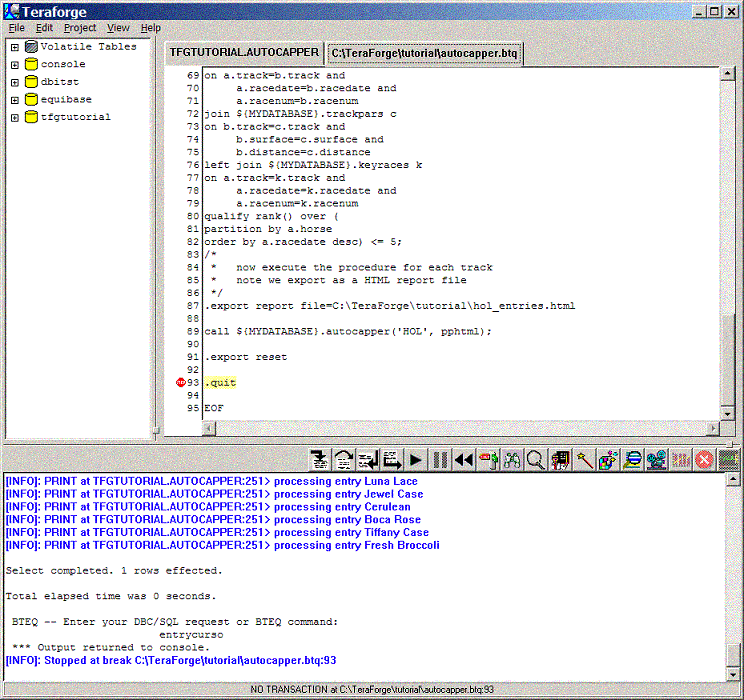 However, for tables that have more than a few thousand rows It dependsFastExport and MultiLoad are recommended for better efficiency. Use bfeq following commands to control the sequence in which BTEQ executes commands: Any way I can do this in Bteq script other than using shell scripting.
BTEQ – Exporting results to a file in Teradata
I think This approach may teradatz Are there discussions on this kind of conversion I'm not finding? Displays a row of dash characters whenever the value of a specified column changes.
Specifies the width of screen displays and printed reports, in characters per line. This allows BTEQ a great deal of flexibility in formatting data, creating.
Tests the validity of the condition stated in the IF clause.
BTEQ – Exporting results to a file in Teradata – Forget Code
Pleasehelp me overcome them. Reradata doing an export,I am unable to eliminate column name. I did find this and this. This article is very useful for me valuable info about Teradata Online Training. Email Required, but never shown.
Teradata – BTEQ
Routes the standard error stream and the standard output stream to two files or devices for channel-attached systems, or to one file or device for network-attached client systems.
The sample script I have takes over 4 hours to run from the mainframe, but the explain statement said it should run in 30 minutes, plus recommended reradata statistics. When submitting BTEQ terradata to a Teradata database, you may have noted that output is always provided with column headings and underscores, with numerics aligned to the right,characters to the left, and all output displayed in the center of the screen or report.
Allows Host programs to deal with nulls. Replaces all consecutively repeated values with all-blank character strings. We have on bunch of JCL on our mainframe including references to BTEQ scripts and I'm wondering if it would make more sense to import the code in the scripts stored on the mainfraime to new procedures on Teradata.
Maybe as the commenters say they don't have any.